Cooly Rocks On welcomes the spirit of VIVA in 2021
Australia's largest Rock 'n' Roll and nostalgia festival, Cooly Rocks On will return to the stunning Coolangatta beachfront in June and will welcome the spirit of VIVA Surfers Paradise with five days of Elvis activity to be added into an already bursting program, bringing 'The King' to Cooly. So get ready for a colourful explosion of sound and culture celebrating the cars, music and moments of the 50s, 60s and 70s.
The merge will see VIVA's Ultimate Elvis Tribute Artist Contest, an Elvis Presley Enterprises sanctioned event, move to the Coolangatta beachfront, bringing music from The King with concerts, dances and performances over five action-packaged days and nights. The free family-friendly festival will transform Coolangatta into a hub of Rock 'n' Roll from the 9th to the 13th of June 2021.
Major Events Gold Coast Director of Events and Festivals, Mark Duckworth, said the new additions to the festival will make next year one of the best.
"Adding the ultimate Elvis tribute artist contest to cooly rocks on will continue to complement the unique nostalgic experiences," Mr Duckworth said.

"For over almost 30 years visitors have flocked to the Southern Gold Coast to experience the feeling of eras gone by, and after a year off in 2020 we look forward to showcasing the music, the dancing and much-loved events like the Shannons Classic Car Show 'n' Shine again in June 2021."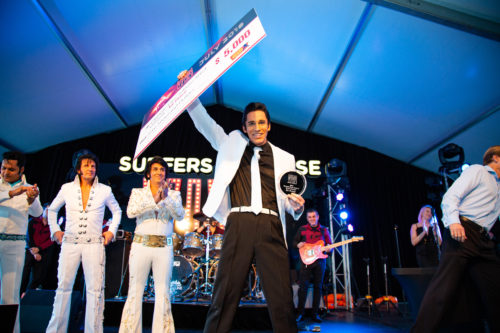 As the festival continues to evolve, we will continue to add hero elements that highlight the nostalgia of eras gone by and take attendees on an authentic journey of yesteryear.  
Gold Coast Mayor Tom Tate said it's exciting to see such an iconic event on the Gold Coast Festival and tourism calendar returning in 2021 with its expanded schedule.
"It's official. The king is on the way to cooly and he'll be supported by classic cars and costumes from the era of true rock 'n roll," said Mayor Tom Tate. 

"To combine the two events makes absolute sense as we reimagine our major events calendar under the new major events organisation.

"I'll be dusting off my blue suede shoes and joining the happy crowd at Coolangatta next year."
So dust off your blue suede shoes and book your accommodation for Cooly Rocks On 9 – 13 June 2021.